Leadership Speaker Series: The State of Rhode Island's Black Economy & Business
Leadership Speaker Series: The State of Rhode Island's Black Economy & Business
Tuesday, April 27, 2021 (6:00 PM - 7:30 PM) (EDT)
Description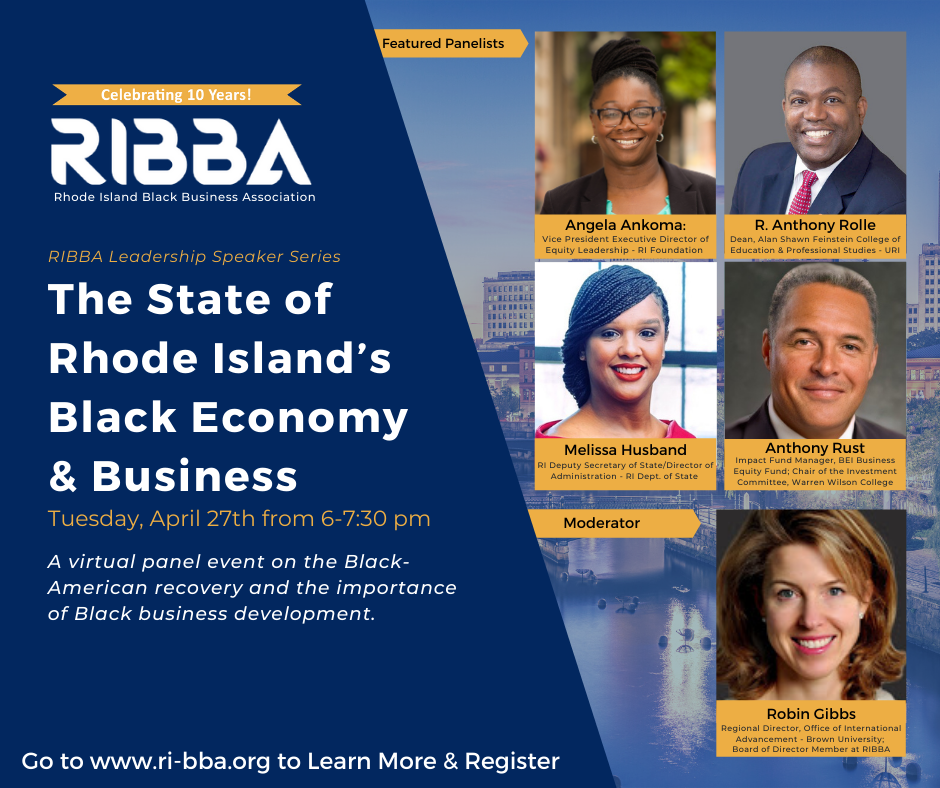 Leadership Speaker Series: The State of Rhode Island's Black Economy & Business
A virtual panel event on the Black-American recovery and the importance of Black business development
The State of Rhode Island's Black Economy & Business panel event will take place on Tuesday, April 27th from 6-7:30 pm. The panel will discuss the Black-American recovery and the importance of Black business development efforts. The panel will offer insight from the following economic, business, and investment experts:
Melissa Husband: RI Deputy Secretary of State/Director of Administration - RI Department of State

Anthony Rust: Impact Fund Manager, BEI Business Equity Fund; Chair of the Investment Committee, Warren Wilson College
R. Anthony Rolle: Dean,

Alan Shawn Feinstein College of Education and Professional Studies - University of Rhode Island

Angela Ankoma: Vice President Executive Director of Equity Leadership - Rhode Island Foundation

Moderator: Robin Gibbs: Regional Director,

Office of International Advancement - Brown University; Board of Director Member at RIBBA





RIBBA's Leadership Speaker Series is a virtual event series to commemorate the important role RIBBA has played in supporting and growing Rhode Island's Black economy over the last 10 years. The series will bring together outstanding leaders from the private, government and nonprofit sectors to discuss economic recovery and development.



About the Panelists
Melissa Husband: Melissa is a passionate, strategic, empowering leader who values integrity, accountability, and creativity in herself and others. In her 20 years of holding leadership roles, she's had the honor of enriching Rhode Islanders' lives, cultivating highly effective teams and leaders, and successfully strengthening organizations. In October 2017 she was appointed RI Deputy Secretary of State/Director of Administration. In this role, she provide leadership across the Rhode Island Department of State through thoughtful strategy. She guides the work and operations of the Elections Division; Business Services Division; Rhode Island State Archives; Rhode Island State Library; Civics and Education Unit; Rhode Island Public Records Administration Unit; Administrative Rules Office; Public Information and Open Government Unit; and Finance and Personnel Division. She leads this work in a way that enables the Department of State to achieve its mission: to engage and empower all Rhode Islanders by making government more accessible and transparent, encouraging civic pride, enhancing commerce, and ensuring that elections are fair and accurate. Previously she was the Executive Director of Community Action Partnership of Providence (CAPP). CAPP is the successor anti-poverty agency to the failing agency Providence Community Action Program (ProCAP). She led ProCAP through receivership and created CAPP in its place. She successfully led CAPP through a new 501c3, reorganization, mission, and vision. She established a new organizational culture and strategic direction, strengthened current programs, and created new programs that support CAPP mission to promote the achievement of economic self-sufficiency for Providence residents in-need. As a result CAPP grew to a 12-million-dollar agency. As an Adjunct Professor, she taught nonprofit management and leadership at Roger Williams University's School of Continuing Studies. I hold a Bachelor of Science in Political Science from Roger Williams University and a Masters in Public Administration from the University of Rhode Island.


Anthony Rust: Mr. Anthony Rust has been in the investment industry for over 25 years as a private equity investor, investment banker and impact investor. As an impact investor, Mr. Rust has effectuated change both as impact investment professional across asset classes and also as Trustee and Chair of the Investment Committee for Warren Wilson College's endowment fund. Currently Mr. Rust is the Impact Fund Manager of the BEI Business Equity Fund, which is an innovative program and initiative designed to finance, invest and focus on Minority Business Enterprises, a business sector that has had a difficult time accessing the requisite capital for growth. This innovative program utilizes an active private equity fund model providing MBEs with embedded strategic advisory services and business distribution resources in addition to capital. Additionally, Mr. Rust serves as a Partner at Caribbean Private Equity Partners, a private equity firm focused on investing in private companies and renewable energy projects around the Caribbean Basin. In addition to Mr. Rust's private equity experience, during his professional tenure, Mr. Rust was an Investment Banker with the First Albany Corporation and Newport Capital. As an Investment Banker, Mr. Rust was involved in the structuring and underwriting of multimillion-dollar senior managed financing transactions and co-managed financing transactions. Further, Mr. Rust assisted in providing financial advisory and capital raising services to private market clientele, structured finance clients, authorities and issuers in the cumulative issuance of several billions of dollars of financing transactions. Mr. Rust holds a bachelor's degree from Tufts University and a master's degree from The George Washington University / SUNY joint program and is a candidate for an International Master of Business Administration from the University of the West Indies, Cave Hill School of Business, Barbados, WI.


R. Anthony Rolle: R. Anthony Rolle is Dean of the Alan Shawn Feinstein College of Education and Professional Studies. Dr. Rolle believes that his mission is to empower life-long learners that maximize academic and professional development opportunities. Dr. Rolle comes to URI from the University of Houston, where he served as department chair and professor of the Department of Educational Leadership and Policy Studies, focused on developing strategy to guide education in America. From his work at Houston, and in earlier positions at Texas A&M University and the University of South Florida, Rolle is recognized for his K-12 education finance and policy research that has led to new models to measure effectiveness and efficiency in public school systems. He has conducted and managed education finance and policy research projects for various government and non-profit organizations that have been recognized nationally and internationally. Rolle was the 2017 president of the National Education Finance Academy, an organization providing national leadership on integrating educational research and policy in a dynamic way to address critical issues in education. He also held an appointment as a Distinguished Research Fellow at Shanghai Academy of Education Sciences that supports the development of comparative and internationally focused K-20 educational leadership and policy initiatives. He serves on editorial and advisory boards for national journals including Educational Considerations, Journal for Effective Schools, National Education Finance Conference, Journal of Education Finance, and is a research fellow for the Education and Public Interest Center & Education Policy Research Unit. Dr. Rolle received a Ph.D., Education Policy Studies, Concentration: Education Finance and Economics, from Indiana University; an M.P.A., Concentrations: Policy Analysis; Organization Management from University of Washington, and a B.S. in Political Science from Santa Clara University, California.


Angela Bannerman Ankoma: Angela Bannerman Ankoma is the Vice President, Executive Director of Equity Leadership at the Rhode Island Foundation which she oversees the professional development of leaders of color in RI. She previously served as the Executive Vice President, Director of Community Investment at United Way of Rhode Island (UWRI). Angela directed UWRI's grant-making, public policy, government relations, research and evaluation and 2-1-1/The Point. Prior to her role at UWRI, Angela worked at RI Department of Health (RIDOH) as the founding Co-Director of the Health Equity Institute where she oversaw the implementation of RIDOH's leading priorities on health equity. Angela has Masters Degrees in both Public Health and Social Work from Columbia University and has varied experience on innovative program design and building strategic cross-sector partnerships. Angela is actively engaged in local community investment efforts. Angela serves on the board of West Elmwood Housing Development Corporation (WEHDC) in Providence's West End neighborhood; a community she has lived in for nearly 40 years. Angela is one of the founding members of WEHDC's nationally recognized Sankofa Initiative. The Sankofa Initiative is a multimillion dollar project that combines housing, a world market and farm to improve health outcomes among Providences' growing immigrant community. Angela also serves on the Advisory Board of the Latino Policy Institute and Amos House. Angela's service to the community has garnered both local and national recognition. Awards of note include: YWCA, Woman of Achievement (2019), Providence Business News, C-Suite Awards (2019), Robert Wood Johnson Foundation: Health Equity Award (2018), NeighborWorks America, Dorothy Richardson Award for Outstanding Resident Leadership (2015); NAACP Providence Branch awarded Angela the Rosa Parks award (2016). Angela and her husband, Frank have 4 children and are the owners of Copa Menswear and Copa Xclusive Cuts in Providence, RI.


Robin Peterson Gibbs: Robin Peterson Gibbs is a Regional Director of International Advancement at Brown University. Prior to Brown, Robin lived and worked internationally for 17 years holding roles in financial services and fundraising for Goldman Sachs and Great Ormond Street Hospital in London, England, Tshikululu Social Investments in Johannesburg, South Africa and as a fundraising consultant in Dubai, UAE. Robin was raised in Rhode Island and holds an AB from Brown University and an MBA from Columbia Business School at Columbia University
Virtual Event - link sent prior to workshop

Event Contact
Rhode Island Black Business Association
Send Email
Tuesday, April 27, 2021 (6:00 PM - 7:30 PM) (EDT)
Tuesday, April 27th from 6-7:30 pm