** Canceled ** Closing Disparity Gaps Through Intentional Community Investment Panel
** Canceled ** Closing Disparity Gaps Through Intentional Community Investment Panel
Thursday, June 24, 2021 (8:00 AM - 9:30 AM) (EDT)
Description
** Canceled **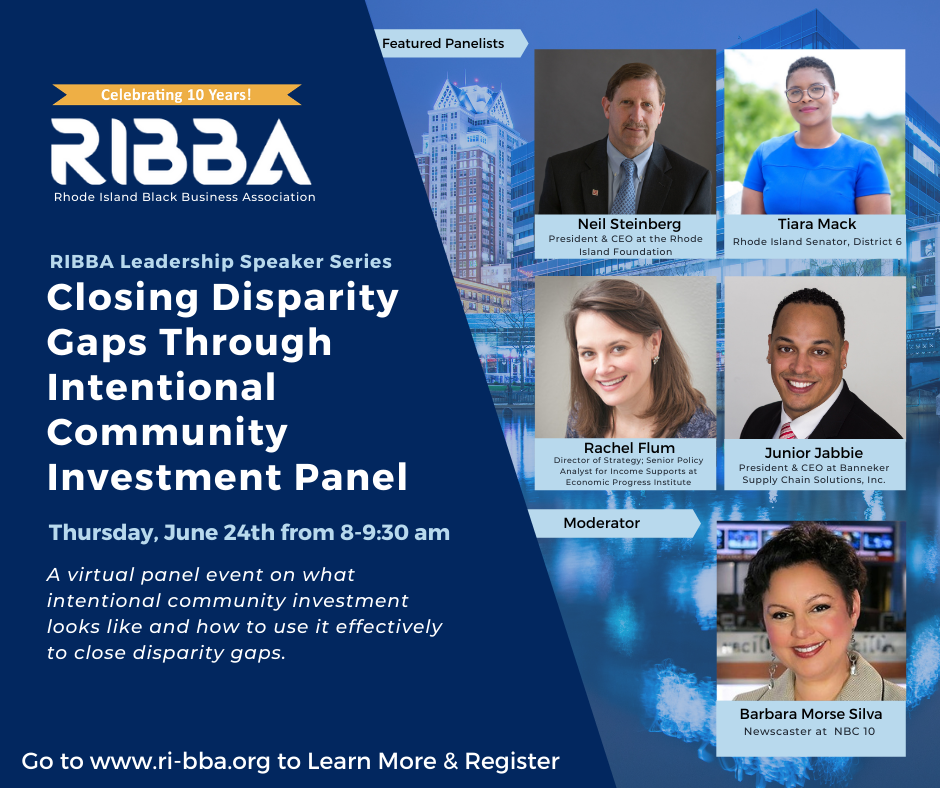 A virtual panel event on what intentional community investment looks like and how to use it effectively to close disparity gaps.
$1.78 Billion Dollars of COVID stimulus dollars are entering the state. What does it mean for you, your family, your business, schools, and community?
Join us for a panel event with local leaders to discuss how to mobilize communities, put the decision-making power back in community hands, and spend funds intentionally. The pandemic has shown us the reality of the wealth gap - and has only increased its size. These four leaders will share their knowledge and insight on how to close disparity gaps through short term investment and long-term strategy.
Neil Steinberg: President & CEO at Rhode Island Foundation





Tiara Mack: Rhode Island Senator, District 6





Rachel Flum: Director of Strategy; Senior Policy Analyst for Income Supports at Economic Progress Institute





Junior Jabbie: President & CEO at Banneker Supply Chain Solutions, Inc.




Moderator - Barbara Morse Silva: Newscaster at NBC10
RIBBA's Leadership Speaker Series is a virtual event series to commemorate the important role RIBBA has played in supporting and growing Rhode Island's Black economy over the last 10 years. The series will bring together outstanding leaders from the private, government and nonprofit sectors to discuss economic recovery and development.


About the panelists:
Neil Steinberg: Neil D. Steinberg is president and chief executive officer of the Rhode Island Foundation. The organization works to address the needs of Rhode Island's diverse communities through philanthropy, grantmaking, and community leadership. With assets of approximately $1.2 billion, the organization raised $68.3 million and distributed $87 million in grants in 2020. Steinberg came to the Rhode Island Foundation in 2008 from Brown University, his alma mater, after serving as vice president of development. For the three decades prior to that, he worked in the banking sector, both for FleetBoston Financial, where he rose to the position of chairman and chief executive officer of Fleet Bank Rhode Island, as well as at investment banking firm DWQ Associates.

Tiara Mack: Tiara is an educator and activist raised in the south (North of Atlanta and Columbia, SC). She moved to Providence to attend Brown University in 2012 and fell in love with the city. She started her journey in education teaching sex-ed in Providence schools as an undergraduate. Tiara previously worked in Providence as a Recruiter to ensure students have teachers that represent their backgrounds, experiences, and future selves. She now works as a Youth Organizer, empowering young people to engage in local and national social issues. Tiara is a Board Member of Women's Health and Education Fund (WHEF) and of the East Side/Mt. Hope YMCA.
Rachel Flum: Rachel has been a member of the Institute team since 2005 in a number of different roles. Since 2021, she has served as Strategy Director and senior policy analyst focused on advancing programs that support working families. Prior to stepping into this role, Rachel served as Executive Director from 2025-2021. Prior to taking over as executive director, she was a senior policy analyst with the Institute for 10 years. Rachel serves on the Permanent Legislative Commission on Child Care, the Rhode Island Early Learning Council and the Child Support Guidelines Review Committee. Rachel has a Bachelor of Arts from Wellesley College and a Juris Doctorate from Georgetown University Law Center.
Junior Jabbie: Junior Jabbie is a results-driven visionary who is committed to the betterment of himself and of those around him. Mr. Jabbie joined Team Banneker in 2005 as an Associate in the Company's leadership development program and ascended to various management and executive leadership positions, including Executive Manager of Corporate Operations and Executive Manager of Business Development and Customer Relationships, before assuming his role as President & CEO. Over the past fifteen years, Mr. Jabbie has led multiple successful initiatives from large complex sales with Fortune 100 companies, to corporate-wide continuous improvement project that have directly impacted every aspect of Banneker's operations.
Barbara Morse Silva: Barbara Morse Silva anchors NBC 10 News on Saturday and Sunday evenings, joining NBC 10 in June 1995. Prior to that, Barbara was the weekend general assignment reporter at WISH-TV in Indianapolis, a television news anchor/reporter at WLVI-TV in Boston, a general assignment reporter for WLNE-TV in Providence, a news reporter at WAND in Decatur, Illinois, and at KOLD-TV in Tucson, Arizona. Barbara was nominated for Emmy Awards in 1993, 1999, 2001 and 2008. She also won an Associated Press Award in 2008 for her report on shaken baby syndrome. Barbara is very active in the community, spending much of her down time volunteering for nonprofit organizations in our area.
Virtual Event - link sent upon registering

Thursday, June 24, 2021 (8:00 AM - 9:30 AM) (EDT)
Thursday, June 24th from 8-9:30 am